Fuller's Session IPA
Hoppy and Fruity, 4% ABV
An American-style, hop-forward IPA, this new addition to Fuller's permanent keg range is truly a best-of-both worlds beer. Brewed with hops from the US and Australia, it's big and bold in flavour yet lower than most IPAs in strength – making it an India Pale Ale that really can please everyone
Although no longer bottled Session IPA is available year round on the Fuller's Brewery Tour and in the Fuller's Brewery Shop and Tap Room

BREAKING THE MOULD
While lower alcohol beers are often lacking in body, Session IPA breaks the mould. A complex malt bill including Golden Naked Oats helps bulk up the beer – while bringing beautiful balance to a line-up of five fruity hops.

Liberty, Cascade, Amarillo and Simcoe hops from the US join forces with the Galaxy variety from Australia to deliver a broad palate of tropical flavours – and because the beer is unfiltered, every note really hits home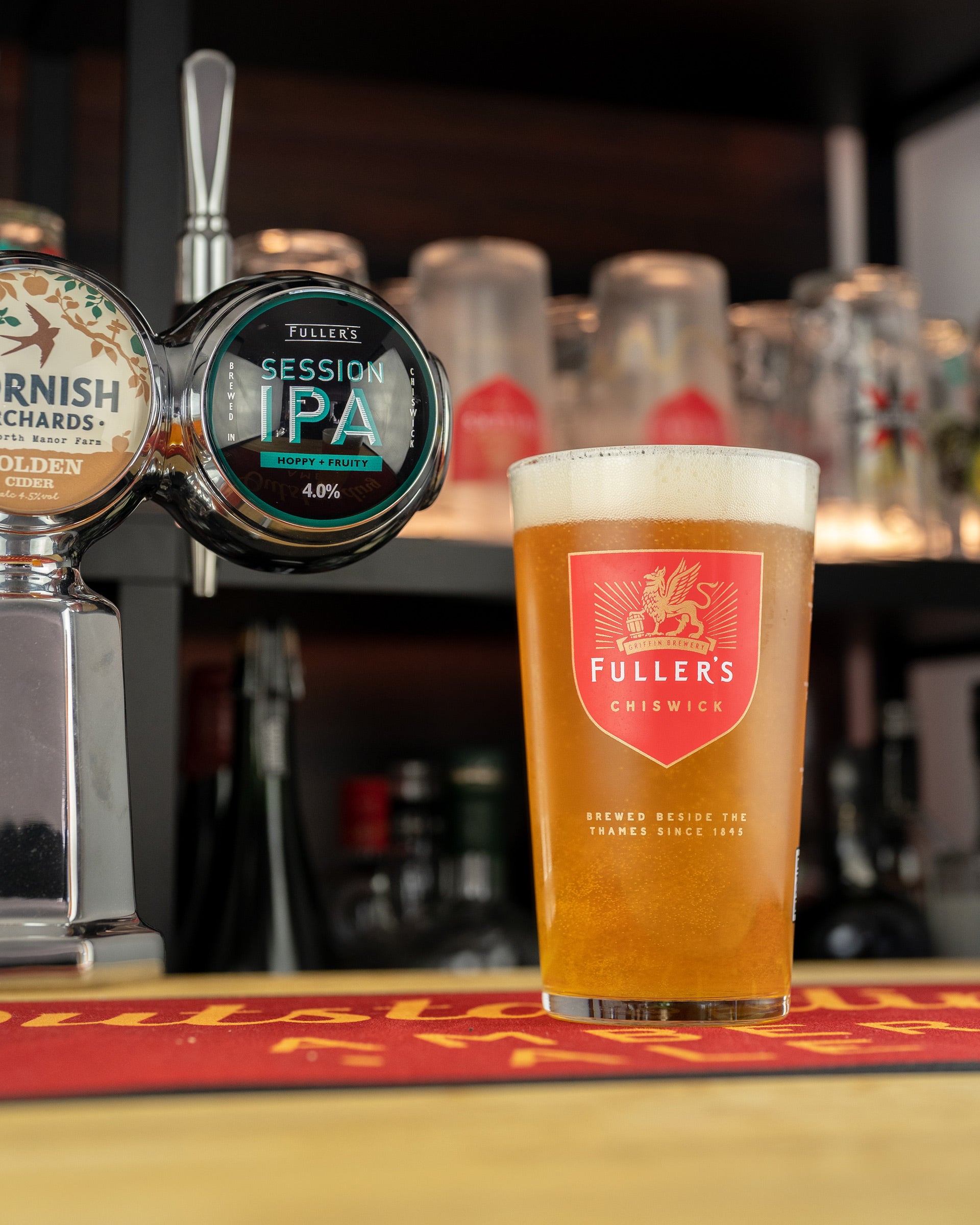 Taste Profile
Sight:

Pale Copper

Smell:

Tropical

Taste:

Hoppy but not bitter

Bitter:

Sweet:

Hops:

Amarillo, Cascade, Galaxy, Simcoe and Saaz

Malts:

Pale, Munich, Crystal Light and Golden
Brew Notes
Pale copper in colour and brewed to just 4% ABV, Session IPA tempts the senses with distinct tropical aromas and a fruity, hoppy flavour. Galaxy hops added in the conditioning phase bring passion fruit, pineapple and mango notes, while dry-hopped Simcoe and Amarillo offer refreshing hints of grapefruit and citrus.
Type – Ale
Abv – 4.0%
Allergy Info - Contains Barley, Oats
Raise a Glass
Session IPA sees a welcome return for one of our favourite hops, Galaxy – an Australian hop also used in Montana Red. The Lone Aussie ingredient in the beer certainly makes its presence felt, bringing delicious passion fruit and mango flavours to the fore.
What customers are saying