Fuller's Sticky Wicket
Tropical Pale Ale, 4.7% ABV
Inspired by cricket's oldest rivalry, Sticky Wicket pitches together English and Australian ingredients in a tropical, refreshing pale ale. With grapefruit and lychee notes racing through the covers of a biscuity malt base, you'll be stumped to find a better brew for the beer garden…
Not bottled Sticky Wicket is available seasonally on the Fuller's Brewery Tour and in the Fuller's Brewery Shop and Tap Room

'How's that' for a summer seasonal?
If willow on leather is the sound of English summer, then Sticky Wicket might just be its taste. Found at the bar between May and July, it's a crisp, clean and fruity pale ale, perfect for savouring throughout the cricket season.

A blend of English Pale Ale and Munich malts provide the biscuit background, while the Australian Topaz and Ella hops form a formidable partnership to bring distinctive tropical flavours to the fore.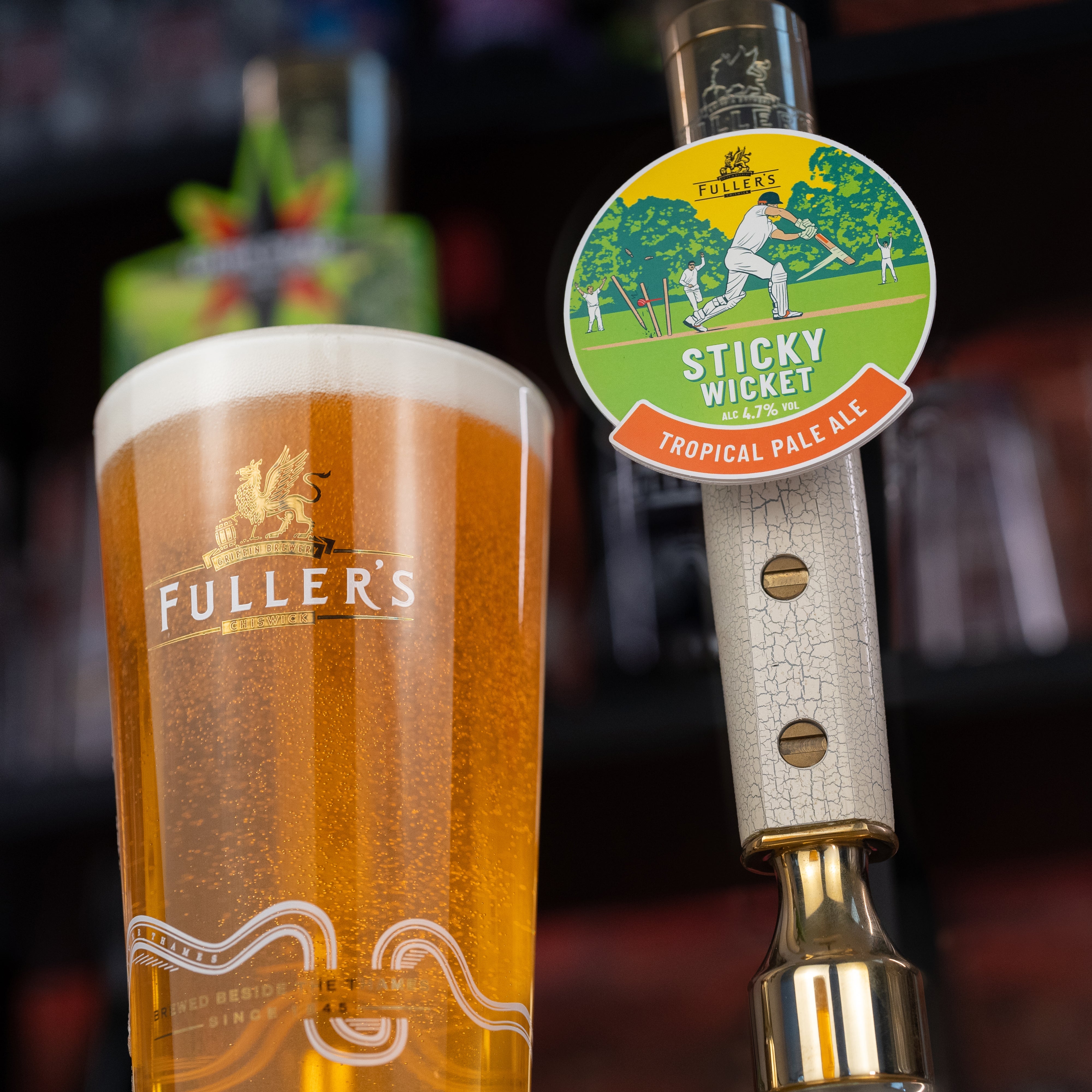 Taste Profile
Sight:

Pale gold

Smell:

Fruity hops

Taste:

Tropical fruit, biscuity malt

Bitter:

Sweet:

Hops:

Ella and Topaz

Malts:

Munich, Pale Ale and Wheat
Brew Notes
Brewed to 4.7% ABV, Sticky Wicket opens with a pale gold pour and the appealing aromas of fruity hops. On the palate, the Topaz hop adds a resinous grassy flavour with gentle hints of lychee, while the Ella hop hits the winning runs with tropical grapefruit notes and a subtle spicy finish Brewing Notes Type -Pale Ale Abv – 4.0% Malts – Munich, Pale Ale, Wheat Hops – Ella, Topaz Allergy Info - Contains Barley
Type - Pale Ale
Abv – 4.7%
Allergy Info - Contains Barley
Raise a Glass
First brewed in collaboration with Australian brewer Stone & Wood in the lead up to the 2013 Ashes series, Sticky Wicket is already a key player in Fuller's squad of seasonal ales.
What customers are saying